Wills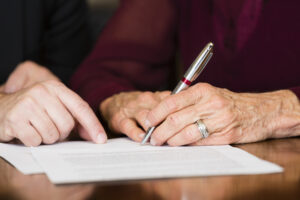 Smith-Weiss Shepard Kanakis & Spony, P.C. can help give you peace of mind that your loved ones will be taken care of and your final wishes will be clearly expressed.  Wills are a critical part of any estate plan and allow you to express your final wishes.  A Will allows you to choose who will inherit your property after you die.  Without a Will, State law will decide how your property is inherited under what is referred to as intestacy law.  Intestacy law generally specifies that property is inherited by your spouse, if any, and closest relatives, following the State's calculation.  Although this may be an acceptable outcome for some, you may not agree with how the State dictates your property will be distributed.  Having a Will allows you to choose and control how your property is inherited.
When discussing a Will, it is also important to know the types of property that are not affected by a Will.  For instance, property held as joint tenants automatically belongs to the surviving joint tenant upon the death of the first and is not disposed of through the Will.  Similarly, accounts or life insurance policies that specify a beneficiary belong directly to the designated beneficiary and are not distributed under the Will. As part of our estate planning review process, our attorneys will review the titling on your assets to make sure you achieve your intended results.
A Will also allows you to choose the person you trust to manage your affairs after your death.  In the Will, you nominate a person to serve as Executor or Personal Representative.  This person is responsible for making sure your estate is properly probated, including paying debts and taxes, and ultimately ensuring that the beneficiaries receive their inheritances.
If you have minor children, a Will is an essential estate planning element as it also allows you to nominate a guardian to care for your children after your death.  A guardian is a person appointed by the court to care for a child and make decisions about the child's care, education, health, and other parental decisions.  Although the court always has to make the decision about who to appoint as guardian, it is important to make the nomination in your Will so the court will know your wishes. 
There are two types of guardians for minors—a guardian over the person and a guardian over the property of the minor.  A guardian over the person is responsible for deciding where the children live, making healthcare decisions, and other parenting decisions for the children.  A guardian over the property of a minor is in charge of the minor's money or inheritance (unless a Trust has been established for the minor's benefit).  In your Will, you can nominate who you would like to serve in each position, in many cases, it may be the same person.  The Will should also specify a backup person in case the original nominated guardian is unable to assume the role when needed.
The Estate Planning team at Smith-Weiss Shepard Kanakis & Spony, P.C. has the experience to assist even the most complex estates to assure that your wishes are clearly conveyed and properly executed for the benefit of your loved ones.