Probate Administration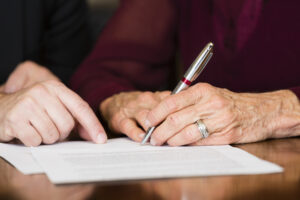 When a person dies, any asset titled in the deceased's name individually, which is not jointly held or which does not have a beneficiary named, must go through probate.  Probate is the judicial process of settling a deceased person's estate by establishing whether or not the person died with a valid Will, appointing an executor or administrator with authority to act on behalf of the estate, managing debts, determining beneficiaries, and ensuring that any remaining assets after the payment of debts are distributed properly.
If you are the executor or administrator, it is your responsibility, under the probate court's supervision, to ensure that the debts and assets of the estate are managed and distributed in accordance with the will or law.  You are under an obligation known as a fiduciary duty to exercise the highest duty of good faith and candor in carrying out the estate administration. 
Our experienced team will help you navigate the probate administration process and help you fulfill your duties.  The probate administration process in New Hampshire generally lasts between 8 and 14 months.  After gathering the necessary information on beneficiaries, heirs-at-law, and assets, the first step is to file a Petition for Estate Administration.  The court will usually provide a ruling on the Petition within 6 weeks, at which time you would be appointed as executor or administrator.  The probate estate must remain open for a minimum of 6 months from the date you are appointed, though in some cases, 12 months may be necessary.  Our experienced attorneys will help guide you through this process, providing advice and counsel every step of the way.
Working with you, our team will prepare and file all of the necessary court documents on your behalf.  We will keep track of the various deadlines and work with you in advance to help you fulfill your duties by filing the forms in a timely manner and providing the required correspondence to beneficiaries and any other interested parties.  We will also advise you on the appropriate records to maintain and accounting process so you can properly perform your duties as the executor or administrator, with the aim of providing beneficiaries or creditors necessary information to keep them reasonably informed and also helping to reduce conflict.
The process of Trust administration is similar, although it is generally not under the supervision of the court.  As a Trustee, you are still under a fiduciary duty to ensure that the debts and assets are managed and distributed in accordance with the Trust.  You also have additional duties to the beneficiaries, including providing them with certain required information in accordance with the Trust or the law.
We can help guide you through the legal process after a loved one has died.  We will be there with you every step of the way to provide guidance on all aspects of probate and/or trust administration.